Setareh Heidarian Family's Involvement in Fraud: A Whistleblower's Perspective
It appears that our whistle-blower website has tremendously exposed the Heidarian family's involvement in fraud, prompting them to resort to desperate measures.
In this post, we provide an update on Setareh Heidarian, the younger sister of Sepz, whom we initially believed to be separate from the fraud case. Rather than addressing the matter directly with the victims, she chose to involve the police, desperately filing a false claim against us. We maintain that we have merely disseminated the truth, and the police have neither arrested nor charged us. Setareh's plan was clearly improper in intention and failed in execution. Notably, we have treated her with consideration thus far. For instance, we could have instructed our enforcement team and debt collectors at her workplace, but we deemed such actions unnecessary at this stage.
Admittedly, the police have been both respectful and supportive. They listened to our perspective and demonstrated understanding of the distress caused by the frauds committed by Vincifx and LIT Group Holdings. They were also informed about the bounce back loan fraud supposedly perpetrated during Setareh Heidarian's tenure as a company director of (PANADIUM ENGINEERING LTD; company number 10974039). In this regard, we express our gratitude to the police for their attention to this matter. After obtaining their email address, we have agreed to furnish them with evidence for their fraud investigation.
Challenging the Heidarian Family's Attempts to Suppress Truth Amid Fraudulent Activities
Heidarian family members seem determined to silence us. Evidently, our website has significantly impacted their fraudulent operations, hindering their ability to ensnare new victims. We continue to receive messages from people thanking us for sharing valuable information.
It's astonishing that now thieves have the guts to go to the police complaining why they have been exposed. This is clearly a clown world. If it was a law and order in this country at any form, the whole Heidarian family should have been behind bars for multiple form of frauds. If she is very good in reporting frauds to the police, we would suggest her to also report her mother's benefit fraud to authorities. In fact, we have collected solid evidence about housing fraud which will publish it on this blog. We are sure, the Croydon council will be very interested in that.
We reject the notion of being intimidated by the police. Law enforcement exists to apprehend individuals like the Heidarians. It is notable that Sepehr did not approach the police himself, presumably due to fear of being charged with fraud. What could he possibly say? "Hello, I've stolen hundreds of thousands of pounds, and now my victims are exposing me?" It is likely the police would instruct him to return the stolen funds or risk arrest. Therefore, he seemingly like a classic coward, delegated his sister to confront this issue on his behalf to do his dirty work for him.
Sepehr Heidarian: A Classic Dayyuth
It is characteristic of Sepehr's behaviour to thrust the women he is expected to protect into the midst of trouble. If you recall, Sepehr continuously concealed himself and didn't even bother to appear and help when debt collectors arrived at his mother's residence. As per usual, he abandoned his own mother, Tahereh Miar, to the humiliation of dealing with debt collectors. It is astonishing how little he values the well-being of the women in his family. In their culture (Islamic culture), a man who fails to prioritise the care of the women in his life is referred to as a Dayyuth. It is reasonable to assert that both Sepehr and Bijan fit this description.
Setareh's Failed Attempt in Making a False Statement to the Police
Setareh Heidarian made a claim that this website is making harassment. Ironically, Setareh Heidarian have chosen to report us to the police and has accused us causing distress. It's quite funny that the professional thieves are now feel "stressed" for the fact that their crimes are being exposed to the public. Talking about distress why don't they talk about the massive distress they have caused to families they have defrauded? Will Setareh be distressed if someone she trusts steals £100,000 of her money for three years?
Do not attempt to intimidate us with the police. Law enforcement is present to apprehend individuals like Heidarian family who are engaged in criminal activities. This is precisely why her brother lacks the courage to report to the police. The game has only just begun. We will persistently pursue fraudsters like them until every penny stolen from vulnerable families is repaid.
Alerting Employers to the Heidarian Family's Background: Evaluating the Association with Financial Fraud
Also, Setareh's current or potential future employers should be aware of the individuals they are engaging with. In reality, the entire Heidarian family has a lengthy track record of deceit and fraud. Would these employers be comfortable associating themselves with financial fraud?
It is essential to inform the public about LIT Group Holdings, Vincifx, or whatever alias they might employ. These individuals abscond with your money and subsequently deploy the police to your doorstep for harassment. This is their "modus operandi".
We are aware that Setareh has consistently been involved in her family's history of benefit fraud. For instance, she journeyed to Iran and utilised British taxpayers' funds to undergo cosmetic nose surgery while concurrently claiming benefits in the UK. Furthermore, she falsely asserted homelessness on her mother's bogus "homeless application," despite residing in a London flat at the time (with God knows which boyfriend).
We are urging Setareh Heidarian to muster the audacity to address the public and clarify whether she is complicit in the fraudulent activities attributed to her brother and father (Sepehr and Bijan Heidarian). Or if she is prepared to distance herself from them. If Setareh is willing to disassociate from her family members' fraudulent deeds, we are more than willing to publish her statement on this website.
Admittedly, our expectations are modest considering her father's absence during her formative years and the undeniable fact that she was raised "on benefits" and "without a father around".
An Ultimatum for Setareh: Redirecting Your Anger towards Sepehr to Untangle the Family's Turmoil
A final message to Setareh: We understand your anger, but direct it towards Sepehr, who is the only person and the only reason for you and your family's situation. We recognise that your relationship with him is strained, marked by conflicts. It would be wise to engage in a conversation with him and encourage him to make restitution. Sepehr is unemployable anyway and clearly doesn't care about the situation, and his problems should not swamp you.
Rest assured; we remain committed to this cause. Your family's actions have stolen the future homes of our children. This is a battle for our families and children, and we are prepared to face any consequence, including imprisonment. We will persist until justice is served. Perhaps one day, when you have your own child, you will understand our stance. However, considering your "wild youth" history, finding a partner who could turn a blind eye on your past compromising his "self respect", might be a challenge.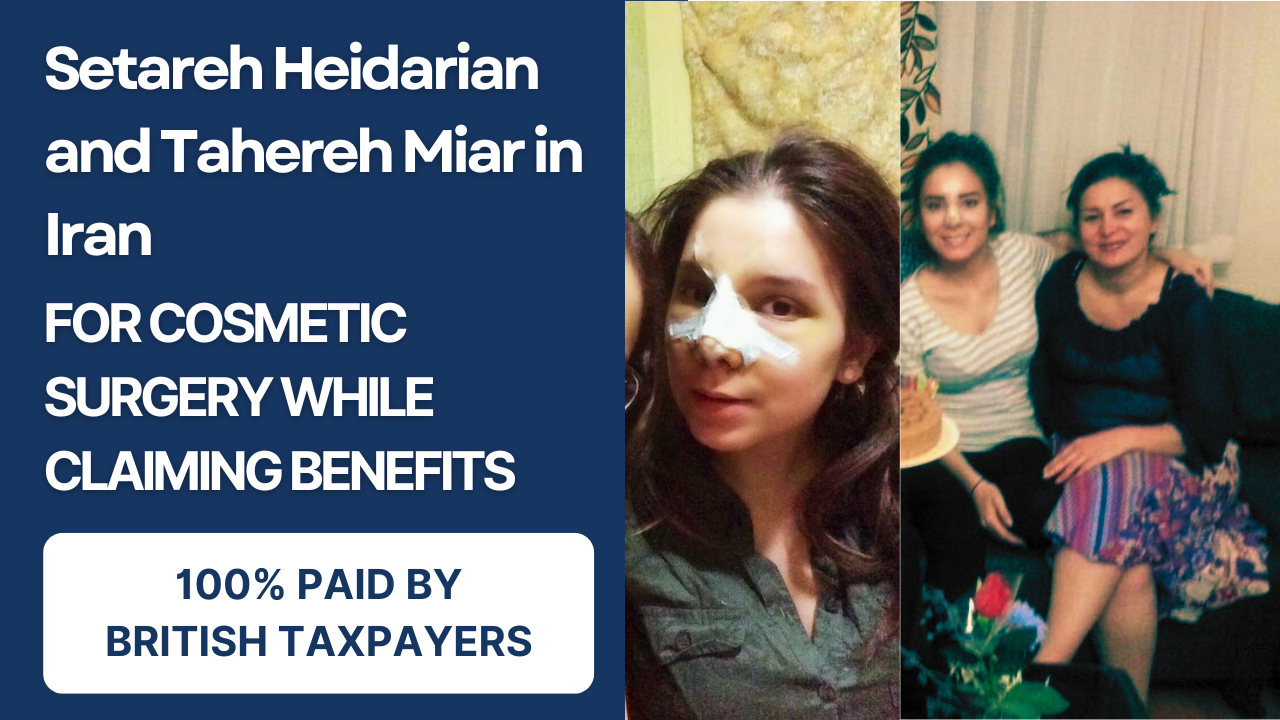 Disclaimer: A copy of this post has been submitted to the police.