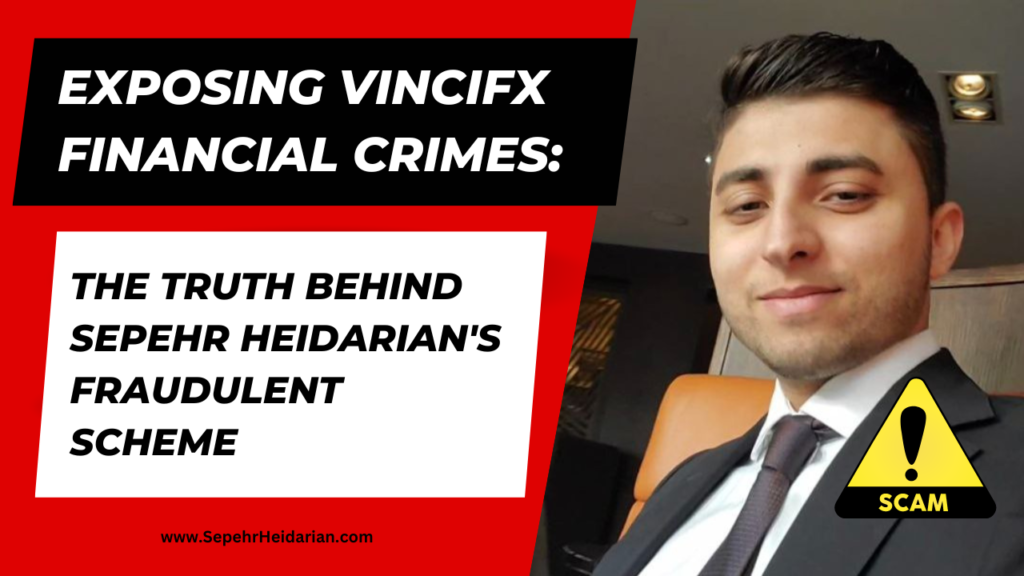 Exposing Vincifx Financial Crimes: The Truth Behind Sepehr Heidarian's Fraudulent Scheme
Introduction: Welcome to our whistleblower website, dedicated to uncovering the intricate web of financial crimes orchestrated by Sepehr Heidarian and his fraudulent enterprise, Vincifx. We are a group of concerned individuals driven by the pursuit of justice, aiming to shed light on the Vincifx scam and Sepehr Heidarian's deceptive practices. Our mission is to protect innocent victims from falling prey to his deceitful tactics, bring these financial crimes to the forefront of public awareness, and hold Heidarian accountable for his actions.
Our journey began with a shocking revelation: Sepehr Heidarian, a person we once considered a close friend, had been orchestrating a series of fraudulent activities under the guise of an investment scheme. Operating under the name of Vincifx, he and his father, Bijan Heidarian, lured unsuspecting individuals into his web of deceit, promising astronomical returns on their investments within an unreasonably short period. This website has been created to expose the fraud and embezzlement committed by Sepehr Heidarian and his Ponzi scheme, Vincifx.
We, as a family, have also fallen victim to Heidarian's manipulative schemes. In 2019, he approached us with an enticing offer through his "investment firm" known as "London Investment Trust Group Holdings" or "L.I.T. Group Holdings Limited." He presented this service as an opportunity to double our investment within a few months, exploiting our trust and friendship. Little did we know that it was all part of his elaborate plan to deceive and defraud innocent individuals.
Through our firsthand experience and the stories shared by other victims, we have come together to expose the truth behind Sepehr Heidarian's financial crimes and provide a platform for victims to share their experiences. We believe in empowering those affected by his deceitful practices and ensuring that justice is served. Together, we will not only unveil the extent of the Vincifx scam but also support and advocate for all those who have suffered due to Heidarian's fraudulent activities.
Vincifx and Sepehr Heidarian Ponzi Scheme
However, we soon came to learn that Mr. Heiderian developed the policy not out of honest intention to act without taking unfair advantage of another person. We are confident that in selling me the service Mr. Heiderian took advantage of not only our friendship but also the information that we started a family in 2019 and was looking to put down all my life savings as part of a deposit to buy a house for our family.  
Aware of our gullibility stemming from a desire to buy a house and settle down to raise our children, Sepehr Heideran proceeded to scam us that instead of placing my life savings as a deposit, it was better if I invested in his firm where I could access guaranteed double returns within a few months and in a year I can buy a bigger, and better house in cash. Following this interaction, I transferred all our family's savings to him. During the accumulation period, he paid an interest payment every month to prove the legitimacy of his service. Later, I realised that these payments were made with the intention of obtaining more money through false pretense.
In Spring 2020, our total investment for the service which was sold as an opportunity to double our funds had reached  £100,000. However, after he noticed that we were not forthcoming with increasing our investment, he stopped paying the interest. It was also at this time when I asked him to refund our money.
Is Sepehr Under Investigation for Fraud?
Since then, he has threatened us and even admitted that if we raised the issue with the broker account (Avatrade) he would go to jail for fraud and that we would never be able to recoup our life savings. He confirmed that he was not licensed or even allowed to trade on people's behalf and he was running this operation illegally and has failed to disclose this crucial information to us at the time of investment. Only then did we learn that "London Investment Trust Group Holdings" was a sham company and illegal structure whose sole purpose was to steal and rob people of their hard-earned money.
Upon further inspection of his firm and where it operates, I learned that the company is in fact dormant and that he runs it from his basement. He is not licensed by the FCA to operate, let alone collect a 7-figure sum from different victims of his fraud. Upon insisting on a refund, Mr. Heidarian told me that the broker (called Avatrade) and the bank (Lloyds Banks) have frozen his account as per the AML laws. However, he refuses to provide any evidence that proves this supposition.
L.I.T GROUP HOLDINGS (UK) Limited is a Sham Company
Following these interactions, and his claim that he is under investigation for money laundering since many of his clients deposited large sums of money in cash into his account. He also claims his Lloyds account has a balance of £250,000 in it right now. I have also checked his company on the companies house website under the name of L.I.T GROUP HOLDINGS (UK) Limited (Company number 11521848). To my surprise I learned that the company is dormant, and it even went under compulsory strike-off on (5th April 202). That is how I learned that he has collected over a million pounds from different investors which warrants an investigation of tax evasion and hiding assets. This is because such a large sum cannot be under a "dormant" company.
The below information is publicly available on the companies house website.
Everything shows the company was never active and the whole show was just a big scam which sadly many people fell into it. That is the reason, for depositing the investment, he failed to provide a business account and all our payments went to his personal account. We also have in our possession bank statements that prove the money was later transferred to his personal bank account despite we asking him to provide a business bank account. If you are also a victim, you can see that you have probably transferred your funds to his personal account.
I have reached out to him indicating that the money I invested was my family's life savings intended to secure a roof over the heads of my two little boys which he robbed of the opportunity to have a place they call home. However, despite my pleas all I can get from him is "go and claim benefits!"
He keeps ignoring our calls and constantly refuses to take up a meeting with us despite we have been asking him over two years now. He used to only reply to my texts once every blue moon repeating the same thing and asking for more time. We have waited for two years for him to return our money, but it seems he is content with defrauding other people's hard-earned money, especially when he doesn't answer to to anyone. On 6th June 2022 after I asked him for our money, he finally blocked us by sending this message:
"Bro. I'm blocking you. I'm trying to give you the money but I can't focus if I answer the messages every second. Need your money? Wait another year. Do whatever you want. I don't give a shit anymore. I cant take these bs from you anymore. If your bs stories and assumptions. DO WHATEVER. SERIOUSLY I DON'T CARE. MY ADDRESS IS [we removed sensitive data]. DO WHATEVER. SERIOUSLY. DO YOU REALLY THINK I HAVE MONEY AND IM NOT GIVING IT TO YOU? Don't bother replying to this. I'm blocking you cause you are really getting on my nerves even when I'm trying to gather you money."
He has confirmed on multiple occasions that he has been trying to falsify documents to get some loan through forgery and fraud so that he can return our money, and we have with screenshots to prove this claim and will publish them on this website.
For the first two years of using his investment service he did not sign any contract neither provided any evidence that our money was being deposited in any investment account. However, We took the initiative and hired a lawyer to create a contract. At that point we did not have hope that we would ever see my funds again. Therefore, we wanted to have something in writing if anything happens to us. The contract was sent to him on 27th December 2021, which he initially refused to sign. However, upon noticing that we were not giving up on having the deed in writing, he and his solicitor made significant alterations to the contract and finally signed it on 7th March 2022. In the contract, he agreed to return the money by April 2022. However, this has not occurred to date.
On 14th June, we sent our last email which was ignored by Sepehr Heidarian as expected. We again, requested a meeting which was declined. Therefore, I asked to receive the following evidence:
Proof that my initial £100,000 has been deposited to the broker account (Avatrade).
Proof that there is a £250,000 balance with Lloyds Bank at all
Proof that both accounts have been frozen
So far no shred of evidence has been presented where our funds are (even it has been frozen) which I suspect even more of the whole thing is just a big scam
This is not a loan issue and we are not looking for debt collectors or solicitors trying to reverse transactions. This is an investment fraud and embezzlement on a large scale that a con man with no license or education who has presented himself as an investment company and taken all our life savings. We have intelligence that we are not the only victims and there are other people who have not come forward yet. We are seeking legal actions with our money back, interest, and compensation. He has imposed many mental health damages and ruined the future of several families, which we will ask to be added to our compensation claim.  This was our family's money to buy a property and not be a renter anymore. Sepehr has no problem to take money from the most vulnerable people whether they are disabled, immigrants with low English proficiency, elderlies and pensioners. In one particular case we are aware, he has taken away someone's pension. We are here to make sure such frauds are punishable by law and he will see the consequences of his horrible actions. 
Come Forward and Be Heard
We are planning to publish all emails on this website. If you are a victim of Vincifx and LIT Group Holdings' Ponzi scheme, please get in touch and we will echo your voice. In the last two years, Sepehr has been using every trick in the book to silence us. So far, he has got away with our money. Please remember that patient and silence will not help anymore. We all should come forward and make sure the truth is heard, especially for the people who are considering to invest in this scam. At least we can prevent them being defrauded.
At the end, we have started a legal action against Sepehr Heidarian and are prosecuting him for fraud and embezzlement. We will keep our readers updated about the status of the legal case. We also have shortlisted a couple of solid lawyers who are working on this case. If you would like to take a legal action, we can link you with them. They know the case very well and can take it as a joint case. Please remember that more victims will increases our chance of winning.