Important Witness Statement Regarding Fraud Committed by Sepehr Heidarian and Bijan Heidarian
Preface to Witness Statement Exposing Fraudulent Activities
Dear Readers,
We are pleased to present a significant witness statement that sheds light on a case of fraudulent activities conducted by individuals whose names need not be mentioned here. This statement serves as a crucial exposé, revealing the deceptive practices employed and highlighting the urgency of addressing this matter.
The witness has come forward with compelling evidence that unveils a fraudulent investment scheme orchestrated by the individuals in question. Their modus operandi involved posing as successful entrepreneurs running an investment firm, promising lucrative returns to unsuspecting victims. However, the truth is far from their claims, as the entire operation was built on deceit and aimed at defrauding innocent individuals of their hard-earned money.
Beyond the fraudulent investment scheme, the witness statement raises additional concerns regarding the individuals' financial activities, including potential tax evasion and the deliberate concealment of assets. The impact of their actions on the victims cannot be overstated, as they have suffered significant financial losses and emotional distress.
We strongly urge you to carefully review the attached witness statement, which provides concrete evidence supporting the claims made. It is crucial that we collectively address this issue by spreading awareness, ensuring potential victims are protected, and pursuing justice for those affected.
By publishing this statement on our blog, we aim to bring attention to these fraudulent activities and encourage action from relevant authorities. We believe that transparency and dissemination of information are essential tools in combating such criminal behaviour. We implore you to share this statement widely, allowing it to reach those who may be at risk and alerting the public to the presence of these fraudsters.
We extend our gratitude to the witness for their bravery in coming forward and sharing their experiences. It is individuals like them who contribute to the exposure of wrongdoings and the prevention of further harm.
Thank you for your continued support, and we welcome any additional information or assistance you may have in pursuing this matter further.
Witness Statement 
(CJ Act 1967, s.9: MC Act 1980, SS.5A (3)(a) and 5B; MC Rules 1981, r.70) 
Age is under 18:    Over 18                                          Dated:
___________________________________________________________________________
This statement (consisting of 10 pages) signed by me is true to the best of my knowledge and belief and I make it knowing if it is tendered in evidence, I shall be liable to prosecution if I have wilfully stated anything which I know to be false or do not believe to be true. 
___________________________________________________________________________
I am [Confidential] DOB: [Confidential]. My address [Confidential]
This is my statement in support of my allegation of being deliberately and significantly defrauded by Sepher Heidarian (DoB 23rd August 1992) and his father Bijan Heidarian who both made false representations to me and others to encourage me based on the trusting historical relationship that there was between his father and my father.
Both Sepehr Heidarian and his father Bijan Heidarian live at same address FLAT 44 PUNAM APARTMENTS, 40A WINDSOR CLOSE, NORTHWOOD, HA6 1FD
I am not expecting to recover any money at all from reporting this matter to the police, I believe it has been gambled away probably in currency trading or sent to Dubai or Iran anyway.
I am a victim of an investment fraud scheme, a classic Ponzi scheme, orchestrated by Mr. Sepher Heidarian, an Iranian/ British dual citizen who happens to be a childhood friend and his father is a close friend to my father. This was the main reason I blindly trusted him when he travelled from London to my home in Southampton in November 2019 saying he is a multimillionaire from his investment firm. His father, Bijan Heidarian, has also made several false statements that he has stopped working and by the investments he has made in his son's business, and consequently he has become retired. Bijan confirmed that he is getting on average 2% per month. Sepehr offered me a service provided by his "Investment Firm" called "London Investment Trust Group Holding" with focus on forex and stock trading. The service was sold to me as an opportunity to double my investment in a few months.
However, I soon came to learn that Mr. Heidarian developed the investment opportunity not out of honest intention to act without taking unfair advantage of another person. I am confident that in selling me the service Mr. Heidarian took advantage of not only our friendship but also the information that I was newly married in 2019 and was looking to put down all my life savings as part of a deposit to buy a house for my family. In total, he took £100,000.
Aware of my gullibility stemming from a desire to buy a house and settle down to raise our children, Mr. Heidarian proceeded to convince me that instead of placing my life savings as a deposit, it was better if I invested in his firm where I could access guaranteed double returns within a few months and in a year, I can buy a bigger, and better house in cash and my children will be "trust fund kids with a lambo". Following this interaction, I transferred all our family's savings to him on the following transactions: first month, February 2020 £14,000, second month April 2020 £35,332, third month May 2020 £30,330, forth month June 2020 £10,000 and finally in July 2020 £10,000. He never disputes the payments I made and agrees with what I paid. As 23rd August, he confirmed he owes us £116.953 including the interests in an official email from his company. Here is Exhibit PS16.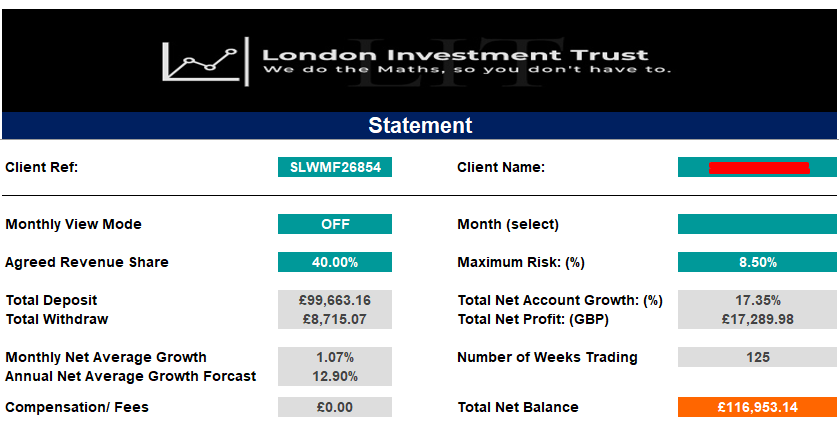 During the accumulation period, he paid a paper interest payment every month to prove the legitimacy of his service. He kept trying to persuade me to increase my investment so I can get bigger return. Later, I realised that these payments were made with the intention of obtaining more money through false pretence. Once he saw we are not adding to the fund, he suddenly stopped paying any interest by bringing lies like his trading account has been suspended or the bank has frozen his account.
During February to June 2020, our total investment for the service which was sold to me as an opportunity to double our funds had reached almost £100,000. However, after he noticed that we were not forthcoming with increasing our investment, he stopped paying the interest. It was also at this time when I asked him to refund our money.
Since then, he stopped any communication with us via phone and refused to meet us. Anytime I suggested him to allow us to speak to the broker, called Avatrade, (he claims that froze our fund) he has threatened me by messages and even stated that if we raised the issue with the broker account (Avatrade) he would go to jail for fraud and that we would never be able to recoup our life savings. Only then we noticed that he was not licensed (although he said otherwise) or even allowed to trade on people's behalf (please check Exhibit PS3). Only then did I learn that "London Investment Trust Group Holding" was an illegal structure whose sole purpose was to steal and rob people of their hard-earned money.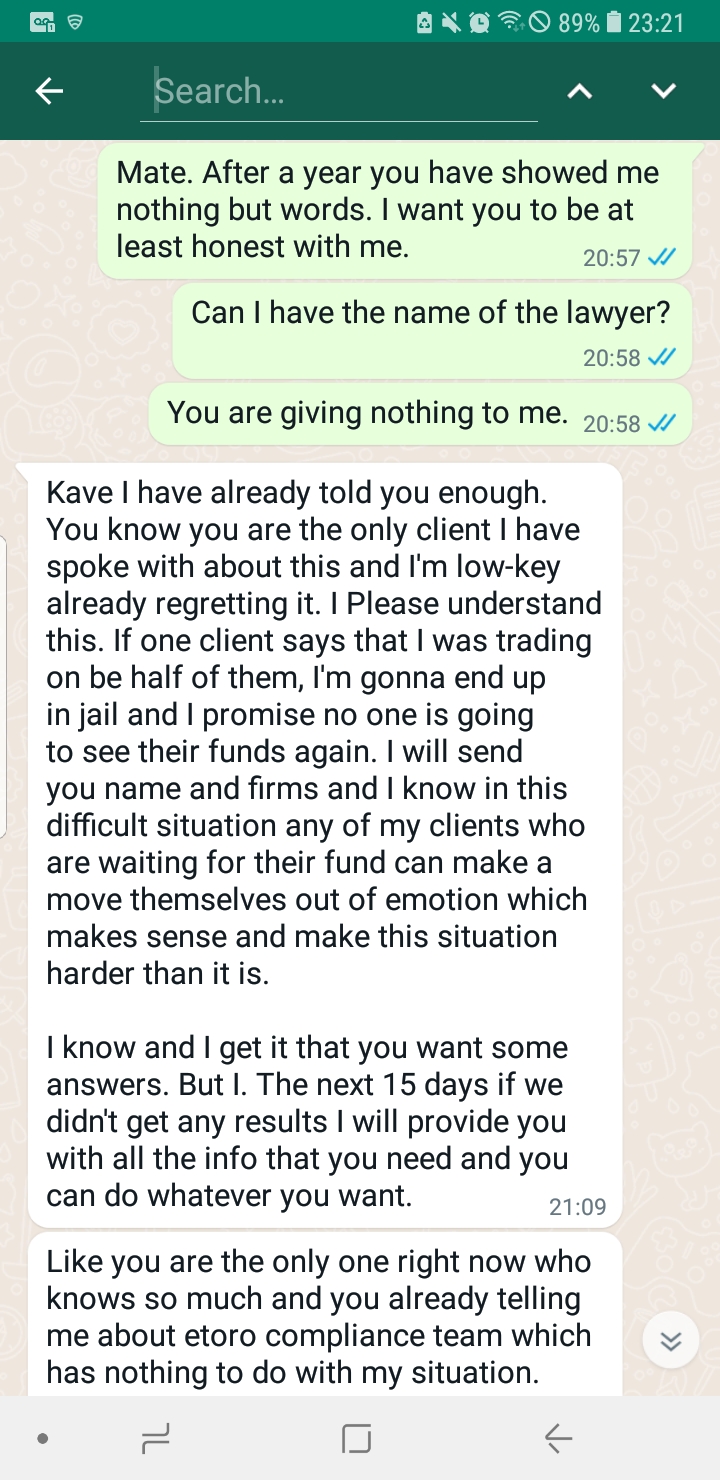 Upon further online inspection of his firm and where it operates, I learned that the company is dormant with zero assets. You can check the company status on https://find-and-update.company-information.service.gov.uk/company/11521848/ . He also uses 34a Queenstown Road, London, England, SW8 3RX which is a bedsit close to an Iranian kebab shop he used to help his father there. I also checked his name and his company name on FCA website, and I even spoke to FCA fraud department over the phone. I also have attached a copy of contact confirmation from FCA as Exhibit PS4. According to my phone conversation with FCA, they confirmed neither Sepehr Heidarian nor LIT Group Holding are licensed by them to operate, let alone collect a 7-figure sum from different victims of his fraud.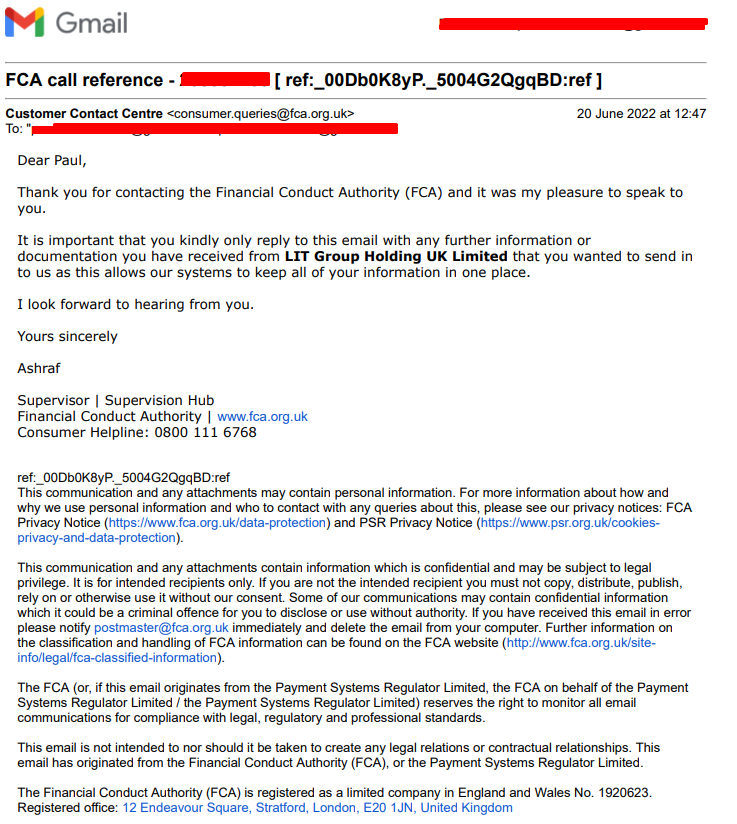 I have also checked his company on the companies house website under the name of L.I.T GROUP HOLDINGS (UK) Limited (Company number 11521848). To my surprise I learned that the company is dormant, and it even went under compulsory strike-off on (5th April 2022). That is how I learned that he has collected over a million pounds from different investors which warrants an investigation of tax evasion and hiding assets. This is because such a large sum cannot be under a "dormant" company. We asked him on several occasion to provide us a business bank account to transfer the money. However, he insisted to send it to his personal account. It is clear now that no bank will offer a business account for such an illegitimate and unlicensed set up.
Upon insisting on a refund, Mr. Heidarian told me that the broker (called Avatrade) and the bank (Lloyds Banks) have frozen his account as per the AML laws. However, he refuses to provide any evidence that proves this supposition. On several occasions, he confirmed that he has a balance of £250,000 with Lloyds Banks which has been frozen (look at Exhibit PS5). He claims he gained this quarter million pound from a lender as a loan. I also spoke to his sister's boyfriend in August 2022, and he confirmed the bank account is empty and he has lost the money. He has been lying to us that Financial Ombudsman is investigating the matter and he is also chasing the bank to release the fund (look at Exhibit PS6).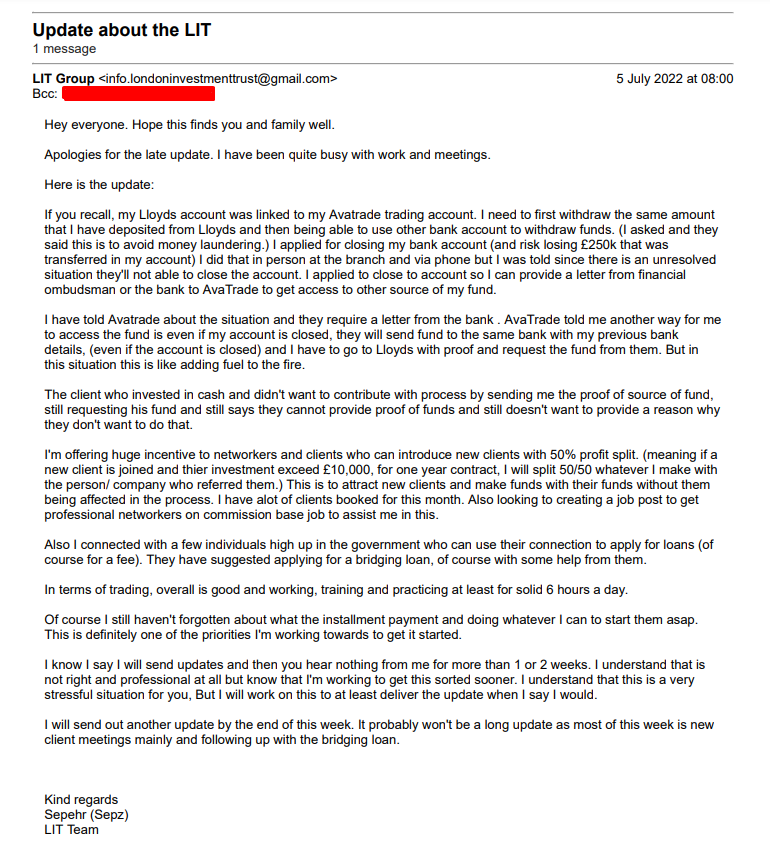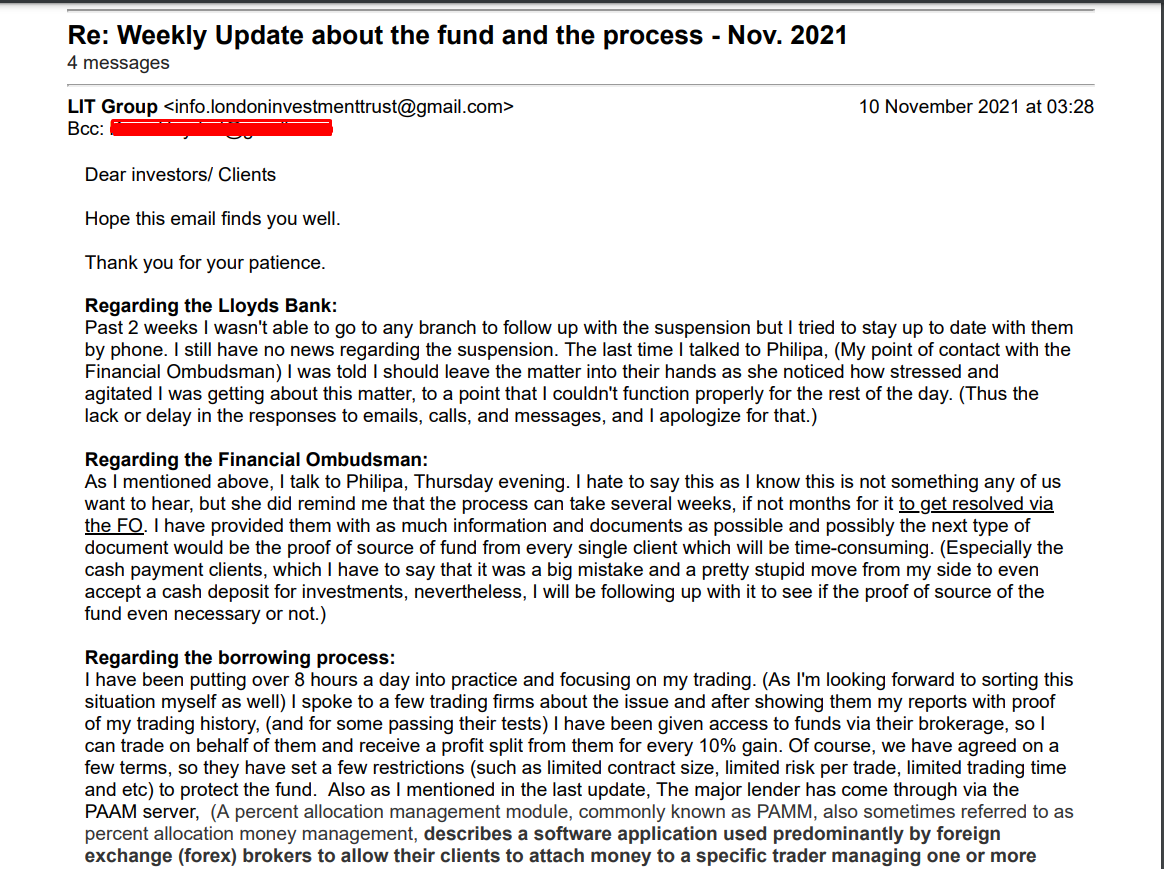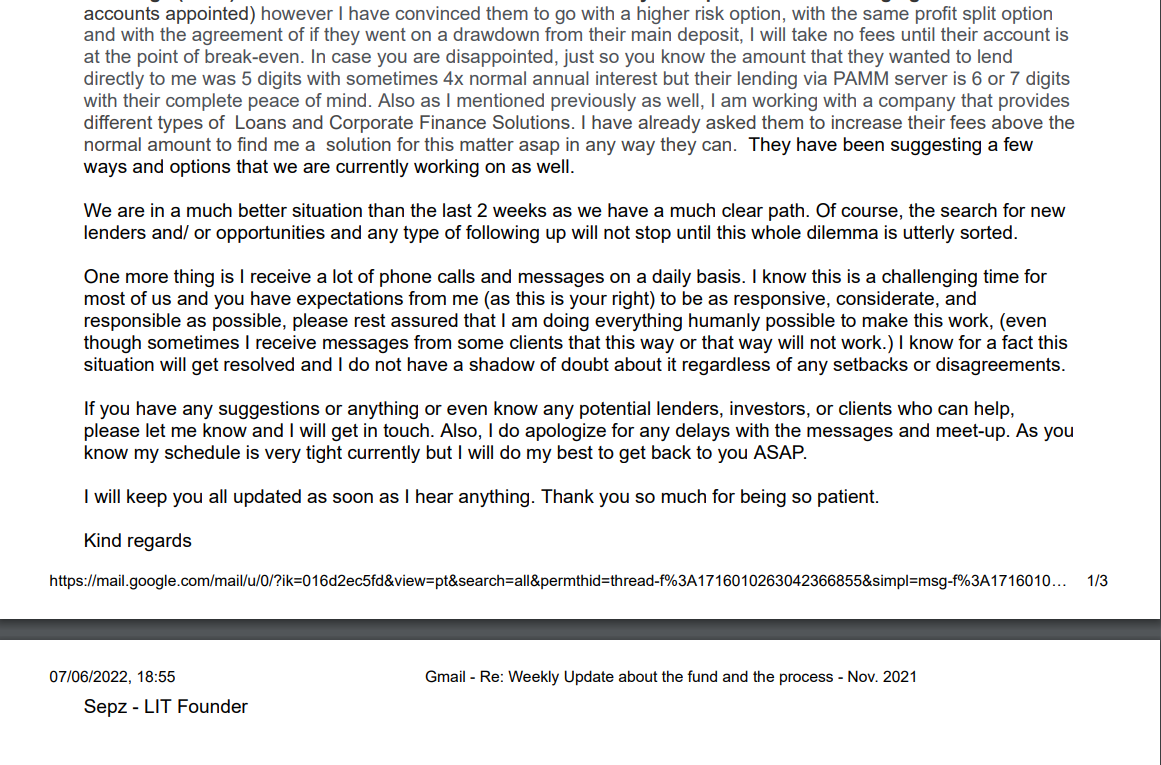 Following these interactions, and his claim with the emails I mentioned above that he is under investigation for money laundering since many of his Iranian clients deposited large sums of money in cash into his account.
The suspect on an email dated 14th August 2020 confirmed that he has now collected half a million pounds from investors please look at Exhibit PS7.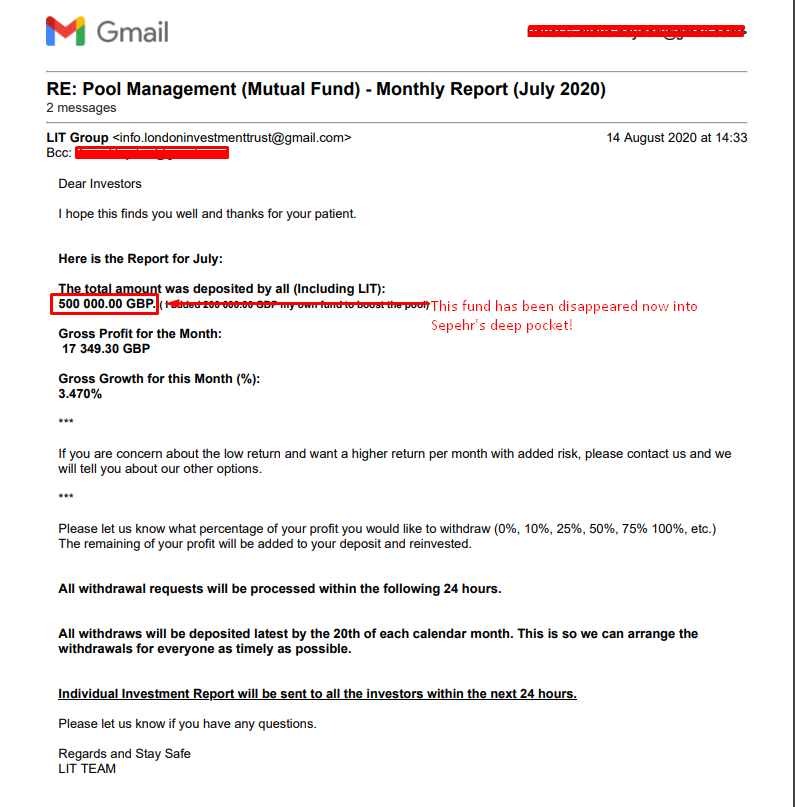 I have reached out to him indicating that the money I invested was my family's life savings intended to secure a roof over the heads of my two little boys which he robbed of the opportunity to have a place they call home. However, despite my pleas all I can get from him in a condescending tone is "go and claim benefits, you are definitely entitled." (Please look at Exhibit PS8)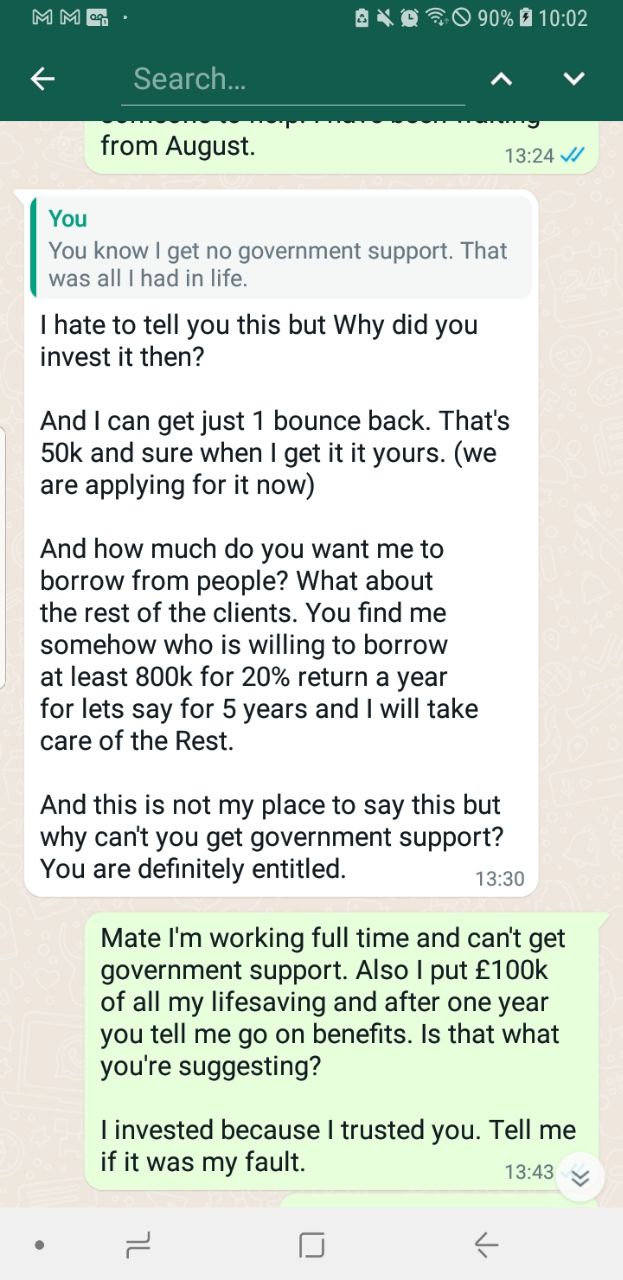 He keeps ignoring our calls and constantly refuses to take up a meeting with me. He used to only reply to my texts rarely repeating the same thing and asking for more time (Exhibit PS11). He also confirmed on several occasions he is trying to bring new investors as low as $200 (Exhibit PS12). I have waited for two years for him to return my money, but it seems he is content with defrauding other people's hard-earned money, especially when he doesn't answer to anyone.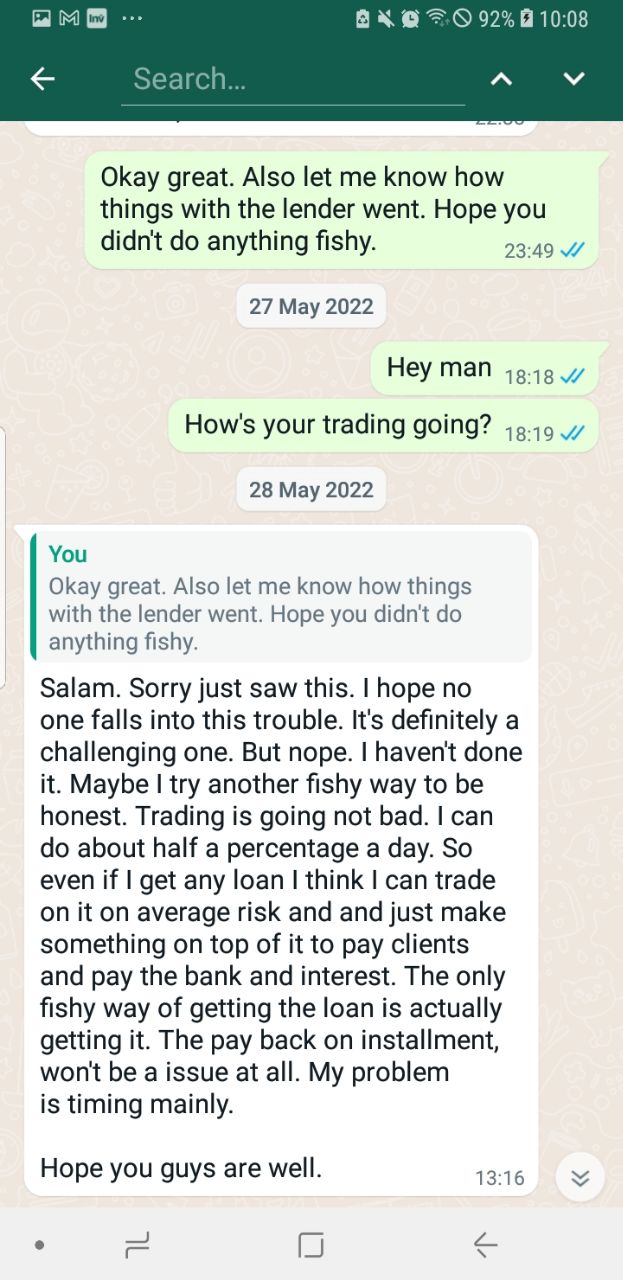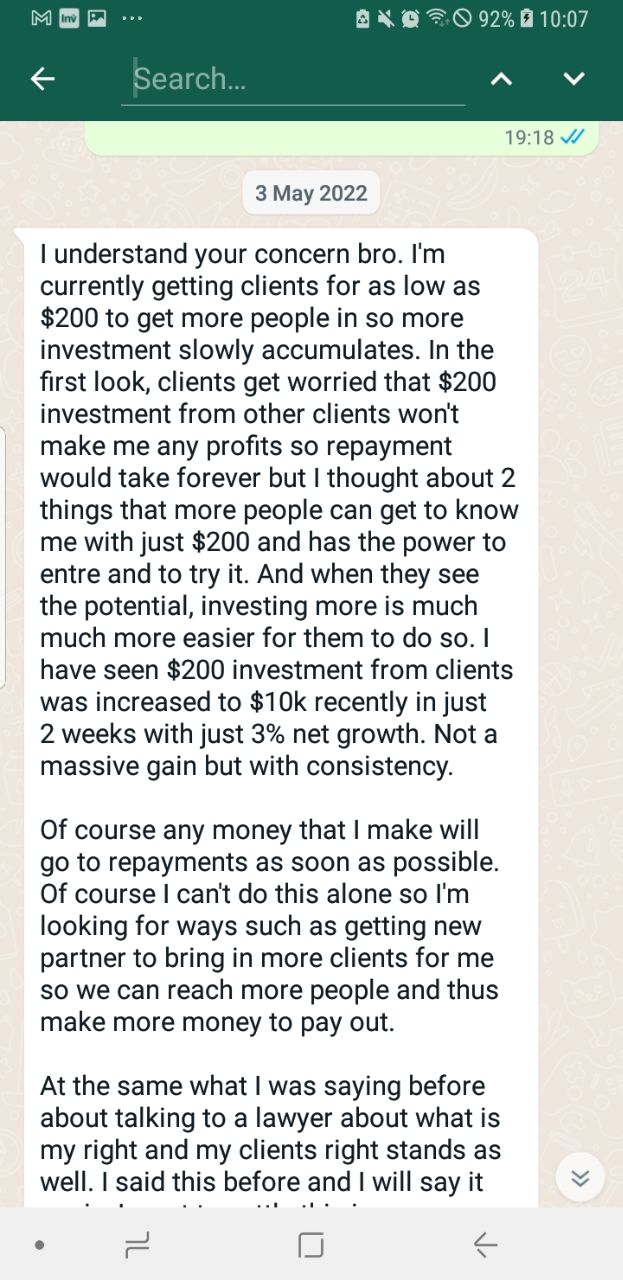 I spoke to his mother, Tahereh Miar, who is also an Iranian / British dual citizen with an address in Croydon. She confirmed that she has also lost £100,000 to his son. Although she is collecting disability benefit, she spends most of the year in Iran. I also spoke to his father Bijan Heidarian and he confirmed he has lost around £200,000 to him. Finally, his sister, Setareh Heidarian has lost £25,000.
On 6th June 2022 after I asked him for our money by text, he finally blocked me by sending this message: "Bro. I'm blocking you. I'm trying to give you the money but I can't focus if I answer the messages every second. Need your money? Wait another year. Do whatever you want. I don't give a shit I cant take these bs from you anymore. If your bs stories and assumptions. DO WHATEVER. SERIOUSLY I DON'T CARE. MY ADDRESS IS BIJANS ADDRESS. DO WHATEVER. SERIOUSLY. DO YOU REALLY THINK I HAVE MONEY AND IM NOT GIVING IT TO YOU? Don't bother replying to this. I'm blocking you cause you are really getting on my nerves even when I'm trying to gather you money." (see Exhibit PS13)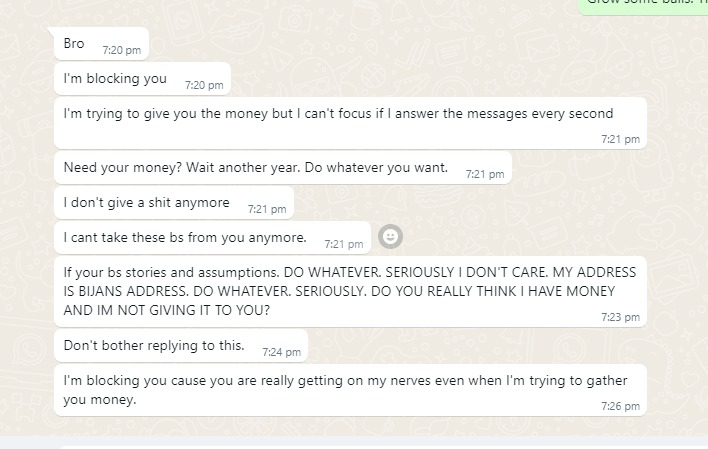 He has confirmed on multiple occasions that he has been trying to forge documents to get some loan so that he can return our money, and I have with me a screenshot to prove this claim. On several occasion he confirmed he is forging documents to fool new lenders and investors. I warned him that will put you in deeper hole (please see exhibit PS9 and PS10).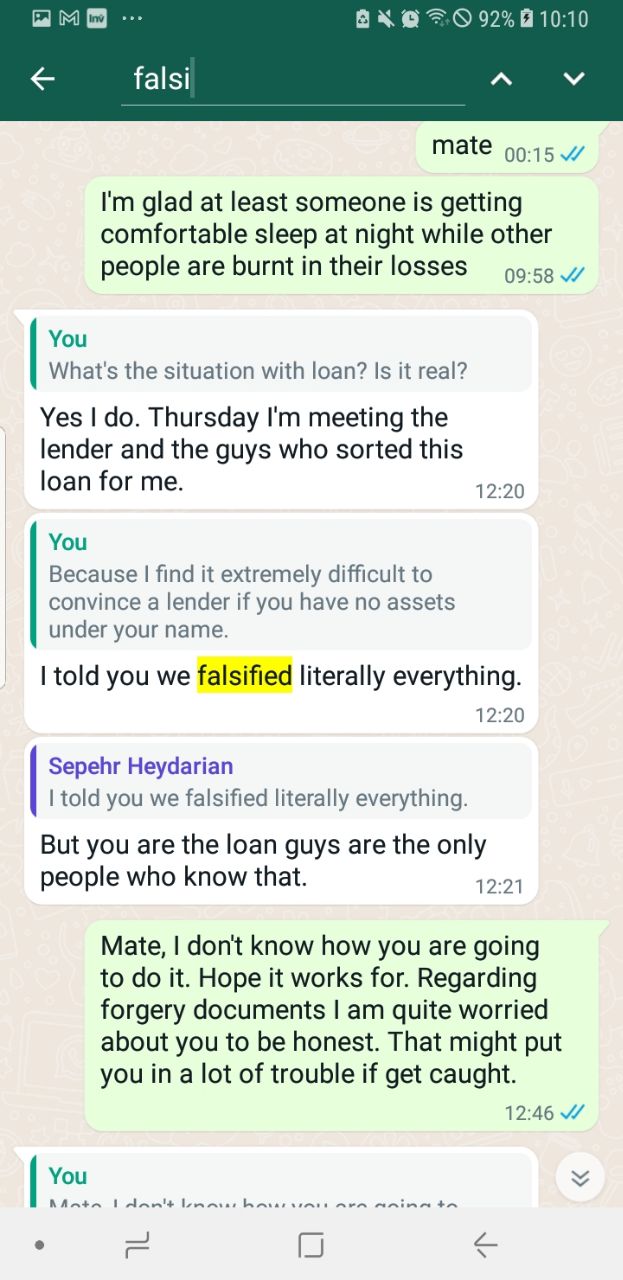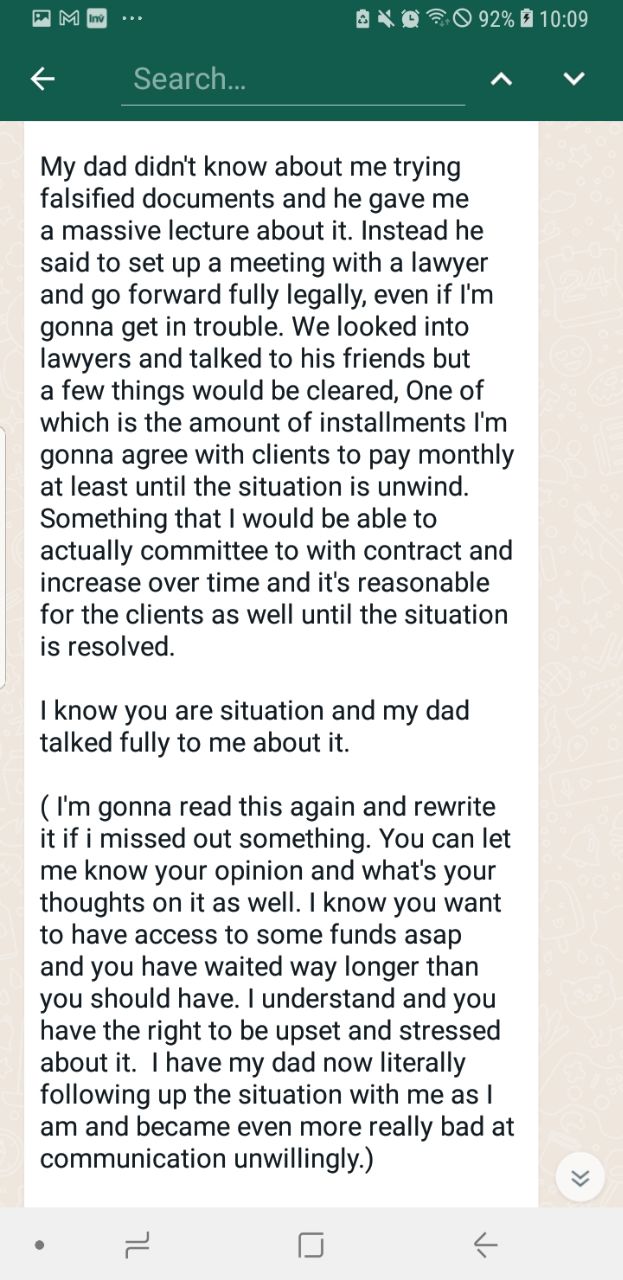 For the first two years of using his investment service he did not sign any contract neither provided any evidence that our money was being deposited in any investment account. However, I took the initiative and hired a lawyer [Confidential] to create a contract. At that point I did not have hope that I would ever see my funds again. Therefore, I wanted to have something in writing in case of my death. The contract was sent to him on 27th December 2021, which he initially refused to sign. However, upon noticing that I was not giving up on having the deed in writing, he and his solicitor made significant alterations to the contract and finally signed it on 7th March 2022. In the contract, he agreed to return the money by April 2022. However, this has not occurred. Regarding the loan agreement, I had no choice but to sign whatever he agreed to sign. Because it was a more than a year, he had our money. I already lost everything, and I had no leverage over him.
I contacted a previous victim who invested around £15,000 with the suspect. Her name is E. B. who is an Iranian / British dual citizen. Over a conversation she confirmed that she had the same exact issue with him. She said she constantly phoned him for 3 months and only by threatening him that she will go to the police, she managed to get her money back. Sepehr retuned her month in February 2021 exactly when he was claiming his account was frozen and he has no access to any funds. See exhibit PS18 and PS19.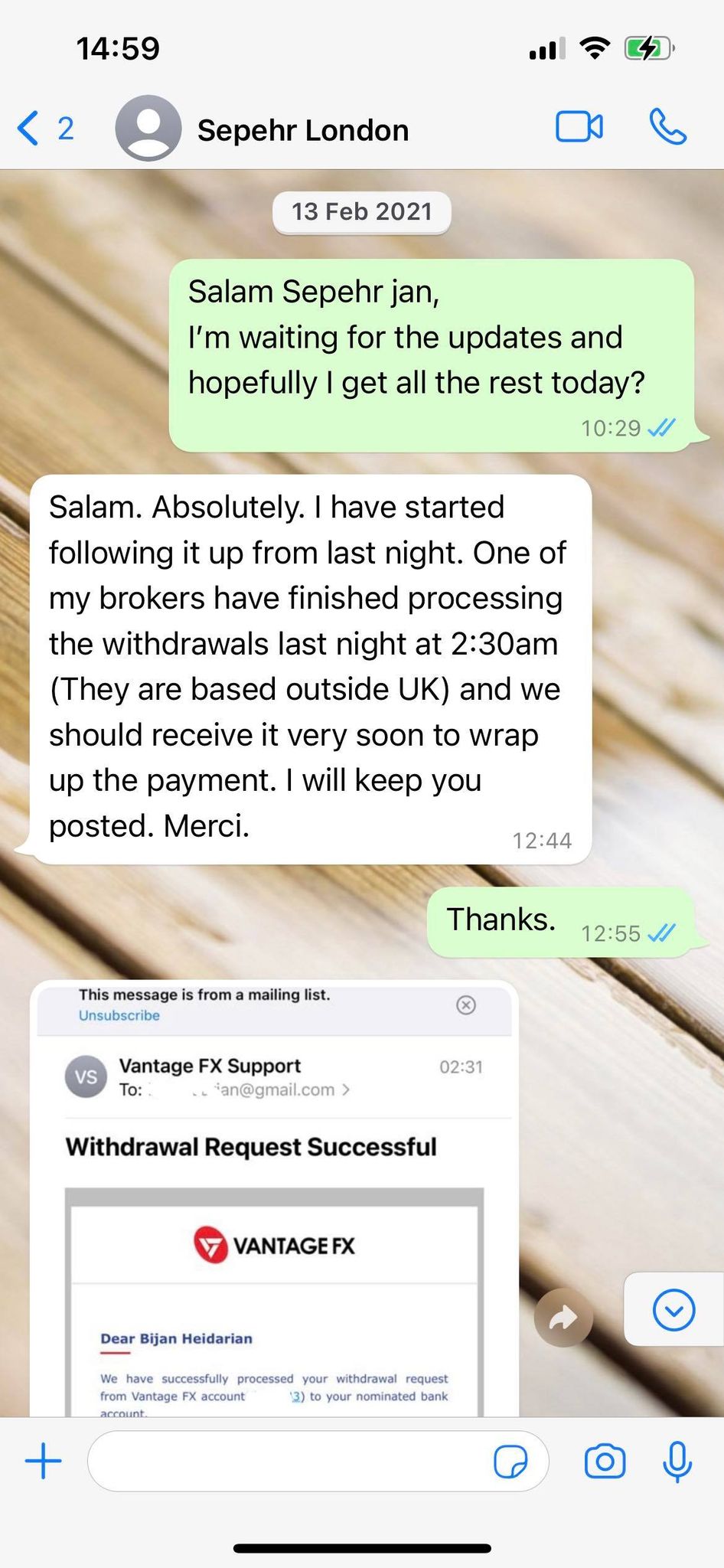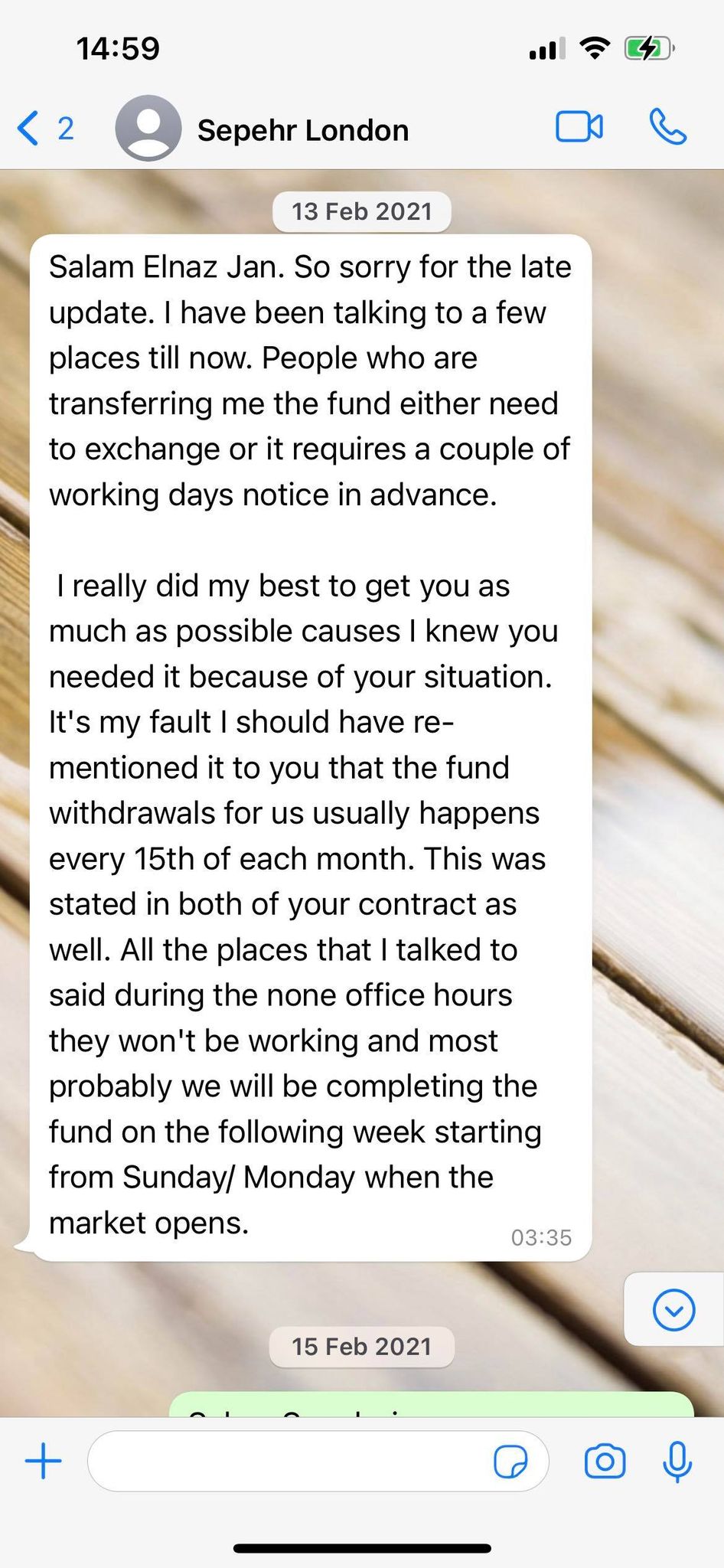 On 14th June, I sent my last email which was ignored by Mr Heidarian. I requested a meeting which was declined again. Therefore, I asked to receive the following documentary evidence: Proof that my initial £100,000 has been deposited to the broker account (Avatrade), Proof that there is a £250,000 balance with Lloyds Bank at all, Proof that both accounts have been frozen (Exhibit PS15).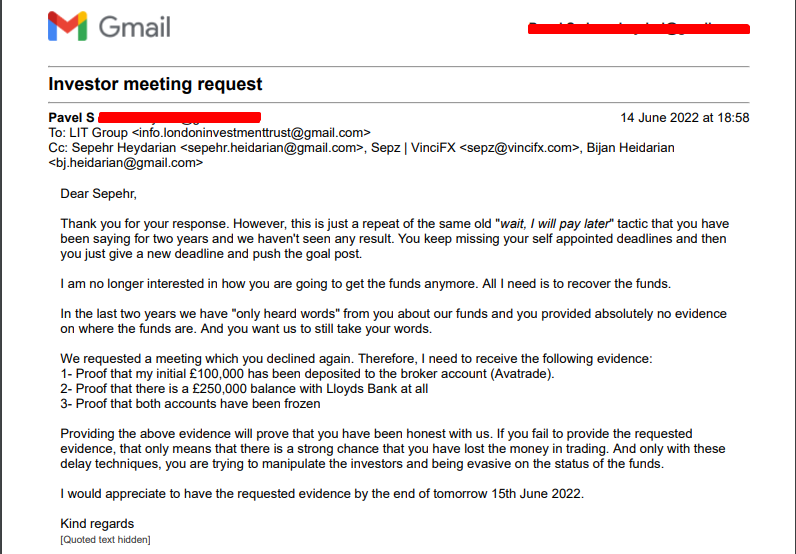 He also tries to bring us to cooperate with him in his frauds by offering 50% profit for anyone brining new investor / victim into his operation. He specifically indicates that he is "huge incentive to networkers and clients who can introduce new clients with 50% profit split". Please check Exhibit PS17.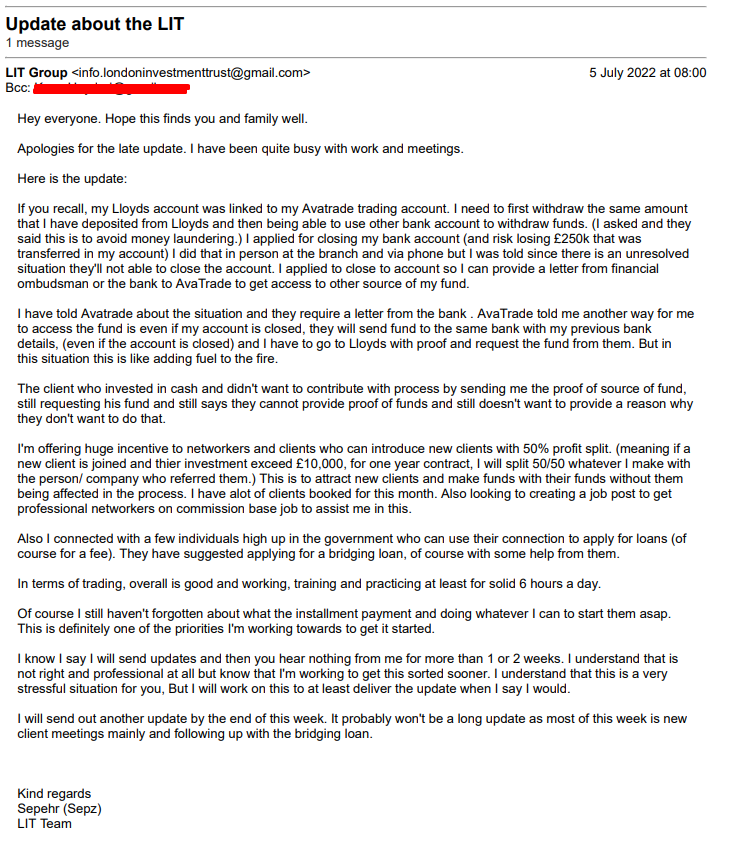 So far, no shred of evidence has been presented where our funds are (even it has been frozen) which I suspect even more of the whole thing is just part of the big scam, to make false representations to fob us all off for as long as possible.
This is not a loan issue. Under advice I created a loan agreement to give me something in writing to rely on to get my money back, but it was long gone. This is an investment fraud and embezzlement on a large scale that a con man with no license has presented himself as an investment company and taken all our life savings. We have intelligence that I am not the only victim and there are other people.
He has imposed many mental health damages on me, this was our family's money to buy a property and not be a renter anymore. I am a disabled person who has survived cardiac arrest and open-heart surgery. I have two small kids and this money was stolen from me and my family. My doctors categorised me as someone with severe heart failure with a shorter life expectancy.
I am willing to attend court to support the police proceedings